Taking Thyroid Medication?
Know Someone On Thyroid Medication?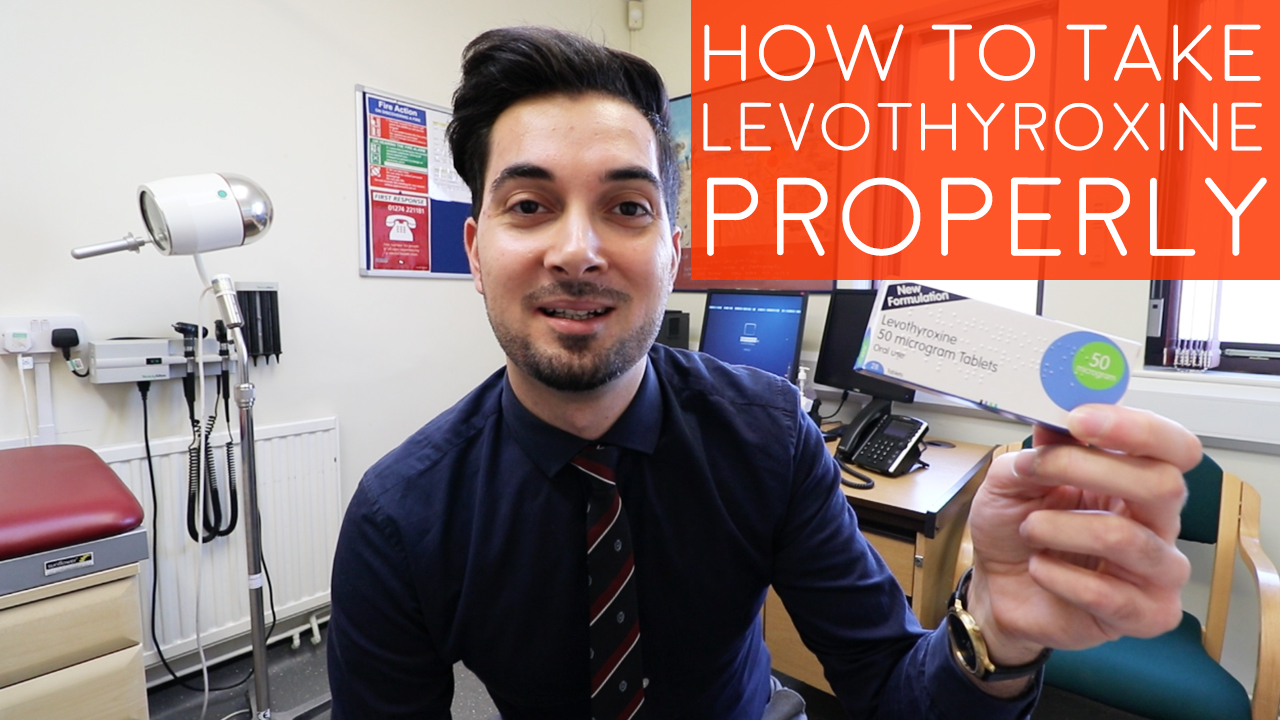 Here's 6 Things You Need To Know To Get The Most Out Of Your Medicine!
Levothyroxine is a medicine used to treat an underactive thyroid gland (hypothyroidism) which affects 1 in 70 women and 1 in 1,000 men in the UK.
The thyroid gland makes thyroid hormone which helps to control energy levels and growth. Levothyroxine is taken to replace the missing thyroid hormone.
KEY FACTS:
• Levothyroxine starts working straight away, but it may be several weeks before your symptoms start to improve.
• The most common side effects of levothyroxine are caused by taking a bigger dose than you need. Your doctor can lower your dose to help reduce any side effects.
• Before you start taking levothyroxine, your healthcare professional will do a blood test to see what dose you need. Once you start taking the medicine you'll have regular blood tests to see how well it's working.
HOW AND WHEN TO TAKE:
• Unless told otherwise by your prescriber or healthcare professional take levothyroxine once a day in the morning, ideally at least 30-60 minutes before having breakfast or a drink containing caffeine like tea or coffee.
• Both breakfast and caffeinated drinks can stop your body taking in levothyroxine properly so it doesn't work as well.
• If you can't take it first thing in the morning on an empty stomach take levothyroxine at least 2 hours after eating food.
• If you buy any medicines, check with a pharmacist that they are safe to take with levothyroxine. Levothyroxine should not be taken at the same time as indigestion remedies or preparations containing calcium or iron (which are contained in some vitamin products). These types of medicines reduce the amount of levothyroxine absorbed by your body. Leave at least 2-4 hours between taking your dose of levothyroxine and any such preparation.
• Soya interferes with thyroxine absorption, therefore if you are taking thyroxine you should try to avoid soya. If you wish to take soya, there should be as long a time interval as possible between eating the soya and taking the thyroxine.
• Avoid products such as kelp, as they may interfere with thyroid function & wellbeing. Kelp is derived from seaweed and is naturally high in iodine. Because of this it is sometimes marketed as a "thyroid booster" and can be purchased in dry preparations and tablets. As with iodine itself, it is of no health benefit to those with thyroid disease.
• Levothyroxine medication interactions link - https://bnf.nice.org.uk/interaction/levothyroxine.html
BLOOD TESTS:
Your healthcare professional will do regular blood tests to check the levels of thyroid hormones in your body before and after starting levothyroxine. These will allow your doctor to adjust your dose to suit you.
At the start of treatment you can expect to have blood tests often. Once your hormone levels are stable, you'll usually have a blood test after 4 to 6 months, and after that once a year.
You may need blood tests more often if you:
• Are pregnant
• Start or stop a medicine that can interfere with levothyroxine
• Have any symptoms that could mean your dose is not quite right
MISSED DOSES:
If you forget to take a dose, take it as soon as you remember, unless it's almost time for your next dose. In which case just skip the forgotten dose. Do not take 2 doses together to make up for a missed dose.
If you forget doses often, it may help to set an alarm to remind you. You could also ask your pharmacist for advice on other ways to help you remember to take your medicine.
Disclaimer:
This video is for information only and should not be used for the diagnosis or treatment of medical conditions. Abraham The Pharmacist has used all reasonable care in compiling the information but make no warranty as to its accuracy. Always consult a doctor or other health care professional for diagnosis and treatment of medical conditions.
About Abraham The Pharmacist:
Prescribing Media Pharmacist | Bringing Science Through New Film Every Monday | Extreme Optimist
Abraham the pharmacists is a prescribing media pharmacist who loves science, making videos and helping people. He works in both GP surgeries and community pharmacy.
Feel free to connect with Abraham the pharmacist at:
http://instagram.com/AbrahamThePharmacist
http://facebook.com/AbrahamThePharmacist
https://www.youtube.com/c/AbrahamThePharmacist
https://www.twitter.com/AbrahamThePharm
https://plus.google.com/u/4/109698449114086481589
https://www.linkedin.com/in/AbrahamThePharmacist